Waarom de employee experience zo belangrijk is
Er zijn veel redenen waarom je aandacht moet besteden aan de employee experience. Denk aan:
Betrokken medewerkers zijn productiever.
Tevreden medewerkers vormt een positieve bedrijfscultuur.
De positieve invloed op het bedrijfsresultaat.
Het aantrekken en behouden van passend talent.
Tijdig inspelen op werk verwachtingen van nieuwe generaties.
De positieve impact op de klantbeleving (customer experience).
Proactieve houding van medewerkers leidt tot meer innovatie.
We kunnen nog wel even doorgaan en je hebt wellicht zelf ook al geconcludeerd dat ze allemaal verbonden zijn. Toch beperken we ons in dit artikel tot twee hoofd-doelstellingen: het aantrekken en behouden van de juiste mensen EN de positieve impact op de dienstverlening en bijbehorende customer experience. Het zijn de voorwaarden om duurzame groei te realiseren, en dus essentieel om een klantgerichte organisatie te worden en te blijven. De employee experience (EX) zou dus zeker niet een HR project moeten zijn dat je er af en toe even bijdoet. Er is doorlopende focus en aandacht voor nodig in relatie tot je dienstverlening.
Een klantgerichte organisatie benaderen wij hier daarom vanuit die twee perspectieven, waarbij de ene onlosmakelijk met de ander is verbonden. We hebben het over het werknemer perspectief (het aantrekken en behouden van de juiste mensen) en het dienstverlener perspectief (de positieve impact op de customer experience en daarmee bedrijfsresultaat).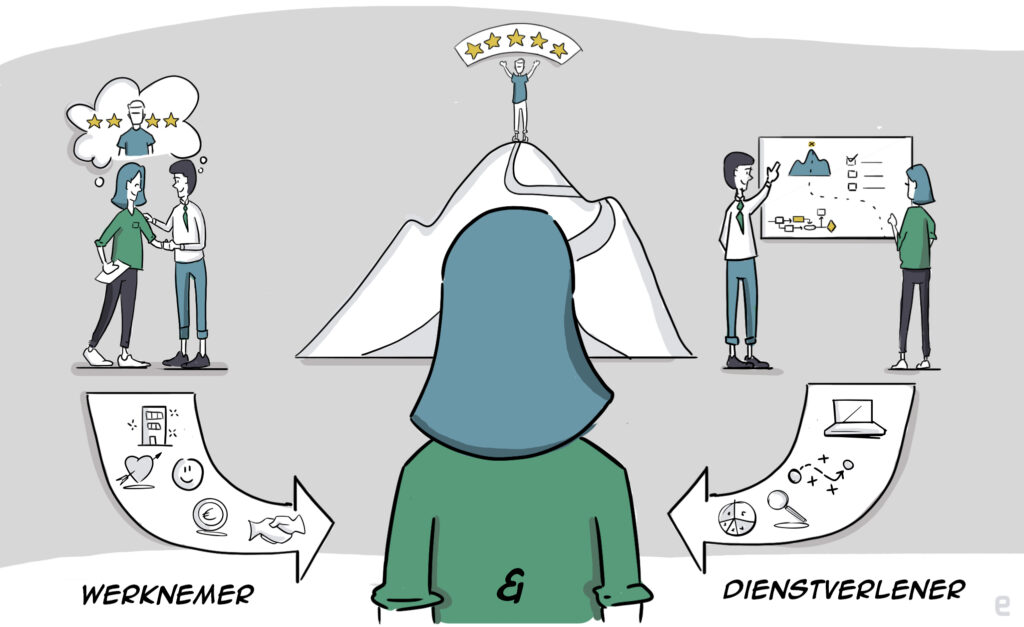 De EX benaderd als dienstverlener
De ervaring voor de klant optimaliseren doe je met de hele organisatie. Met de customer journey bekijk je organisatiebreed naar verbeteringen en kansen om de klantbeleving te optimaliseren. Medewerkers moeten de waarde van een bepaalde ervaring inzien, zodat ze gezamenlijk vanuit die waarde werken. Daarom heb je medewerkers nodig met een klantgerichte mindset. Ook moeten medewerkers gefaciliteerd worden om klantgericht service te kunnen verlenen.
Een voorbeeld: als de call agent niet snel en makkelijk de juiste antwoorden kan opzoeken in een actuele kennisbank, kan de medewerker per klant een ander antwoord geven en duurt het beantwoorden van de klantvraag langer. Hoe langer de medewerker met de klant aan de telefoon zit, hoe minder blij de klant wordt en hoe duurder de dienstverlening is.
We noemen dit employee engagement: de wil om bij te dragen aan de organisatiebrede visie op klantgerichtheid.
Je kunt die mindset ontwikkelen door samen met de medewerkers nieuwe kennis op te doen en ze tools te geven om zich beter in te leven in de klant, zodat ze met hun beslissingen en handelingen de klant zo goed mogelijk bedienen. We noemen dit employee engagement: de wil om bij te dragen aan de organisatiebrede visie op klantgerichtheid.
Een ander voorbeeld: bij een bedrijf hebben ze een hele goede klachtenmonitor: daarin wordt bijgehouden waar klanten vaak over bellen en ontevreden over zijn. Als dit geen prioriteit krijgt om om te lossen blijven (andere) klanten hierover contact opnemen, resulteert dit in een lagere employee engagement: "er wordt toch niets gedaan met mijn suggestie", zal de klant ontevreden blijven en de kosten hoog omdat meerdere klanten over ditzelfde probleem contact op blijven nemen.
De EX benaderd als werknemer
Vanuit HR perspectief bestaat de employee experience uit alle ervaringen die medewerkers hebben met hun werkgever: van het overwegen om te gaan solliciteren tot en met het afscheid nemen en misschien zelfs het alumniprogramma. Je hebt het dan over de employee lifecycle. Je kunt die op papier tot in de puntjes verzorgen, maar wat telt is hoe medewerkers er over denken en hoe ze zich erbij voelen. Ervaringen en behoeften van de medewerkers staan centraal. Dit is practice what you preach ten top. Wil je immers aan de voorkant een klantgerichte organisatie zijn, dan moet je dat intern ook zijn richting je medewerkers.
De juiste mensen aantrekken en behouden (en dus een hoge medewerkerstevredenheid realiseren) doe je door aan drie aspecten te werken: bricks, bytes en behaviour.
Bricks: alle fysieke aspecten van het werk. Dat gaat verder dan een koffieautomaat en een hippe kantoorinrichting. Ook dingen als salaris, arbeidsomstandigheden, woon-werkverkeer, opleidingsmogelijkheden en groeipaden en cultuur vallen hieronder.
Bytes: de technologieën die medewerkers gebruiken, zowel direct om hun werk uit te voeren als indirect om bijvoorbeeld vergaderruimtes te reserveren. Denk ook aan de toegankelijkheid van systemen bij locatieonafhankelijk werken, zoals thuis of bij een klant.
Behaviour: de organisatiecultuur en de houding van de medewerkers, belangrijk is het gevoel van erkenning en zich gehoord voelen. Hierin hebben leidinggevenden uiteraard een voorbeeldfunctie: krijgen medewerkers voldoende eigen verantwoordelijkheid en bijbehorend mandaat om dingen op te lossen. is er ruimte voor ontwikkeling en groei?
Door aan bricks, bytes en behaviour te werken, creëer je een omgeving waarin werknemers goed gedijen en daardoor resultaten behalen.
Employee experience: waar werknemer en dienstverlener samen komen
Vanuit de dienstverlener (CX) benadering benader je dus de employee experience met als doel de ervaring van de klant te verbeteren. Vanuit de werknemer (HR) benadering staat de ervaring van de medewerker in de spotlight. Het gaat namelijk niet enkel om de individuele employee lifecycle, het gaat juist ook om het meekrijgen van de hele organisatie in veranderingen. Indirect vloeit ook daar dus een verbeterde customer experience uit voort: tevreden en engaged medewerkers zorgen dus uiteindelijk voor tevreden klanten.
Als je de employee experience wilt verbeteren is dat eigenlijk niet anders dan werken aan de customer experience. Het enige verschil is dat de klant nu de medewerker is. Dat kan een traject wel net even wat spannender maken. Het is vaak eenvoudiger om objectief naar een vrij anonieme klant te kijken, dan naar een collega waar je al tijden mee werkt. Vergeet ook niet dat je het personeelsbestand niet als een homogene groep kunt beschouwen. Net zoals bij customer journeys, maak je ook voor employee journeys verschillende klantbehoefteprofielen waarin je het verschil in behoeftes van medewerkers in kaart brengt.
"Clients do not come first, employees come first. If you take care of your employees, they will take care of the clients." – Richard Branson
Synergie op employee experience
De twee verschillende perspectieven op de employee experience versterken elkaar. Het is dan ook goed om aan beiden aandacht te besteden. Zo krijg je een holistisch beeld van de employee experience en kun je eenvoudiger verbanden leggen en verbeteringen doorvoeren. Dat is synergie, en die neemt alleen maar toe als je het in de context van customer experience plaatst.
Vergeet dus vooral niet je eigen mensen als je stappen wilt maken op customer experience. Wees klantgericht door de employee experience op één te zetten. Om Richard Branson te citeren: "Clients do not come first, employees come first. If you take care of your employees, they will take care of the clients."
Geïnteresseerd om nader te bespreken hoe wij kunnen helpen bij het verbeteren van de employee experience en de link met de dienstverlening? Neem contact op of ga direct naar de training Employee Experience optimaliseren van onze Academy.