Customer experience (CX) is crucial in today's world, and with good reason. When companies are all competing for customers' attention, providing a great experience can be what sets you apart. At Essense, we know first-hand how important it is to create positive, impactful experiences for customers. In this article, we break down the concept of customer experience, the value of a strong CX and how to get started improving it within your organisation.
what is customer experience?
Customer experience, or CX, refers to the overall perception a customer has of a brand based on their interactions with it. A customer forms their experience based on each single interaction it has with a company or organisation, from browsing a website to making a purchase and receiving post-sale support.
Customer experience issues often arise when companies operate in silos, leading to fragmented and disjointed interactions with customers. Typically, business operations shape the experience and drive how the organisation is structured, rather than the needs of the customers. To provide a seamless customer experience, companies should reorient themselves to put the customer at the center of their organisation. Customer experience goes beyond just the quality of a product or service. It encompasses every aspect of a customer's journey with a company, including the emotions, behaviour and needs that are associated with each interaction.
Cross-functional collaboration and an emphasis on the entire customer journey can help achieve a cohesive experience that matches customer expectations. By realigning business processes around customer needs, companies can gain a competitive advantage and build brand loyalty.
At Essense, we think that an exceptional customer experience means having a deep sense for your customers' needs, motivations, and goals, and aligning your brand promise and activities accordingly.
the benefits and value of a good experience
There are significant benefits to providing an exceptional customer experience.
Customer loyalty
When customers have a positive experience with your brand, they become loyal, returning customers. Loyal customers will continue to choose your products and services over competitors, leading to recurring revenue and profitability. According to Harvard Business Review, increasing customer retention by just 5% can increase profits by 25-95%.
Competitive advantage
A great customer experience helps you stand out in a crowded marketplace. When products and services are similar, the experience is often the deciding factor for customers. By focusing on customer needs and exceeding expectations, you can gain an advantage over your competitors.
Brand reputation
Providing a poor experience can seriously damage your brand reputation and deter potential customers. Dissatisfied customers may share complaints on social media, leave negative reviews, or warn others about their experience. This makes people less likely to consider your brand in the future and more likely to choose competitors, reducing customer acquisition, retention and sales.
Word-of-mouth marketing
Satisfied customers will recommend your brand to family and friends, providing free marketing that significantly impacts purchasing decisions. This is also referred to as NPS, or Net Promotor Score. People are far more likely to trust recommendations from those they know, making it very influential. Each recommendation can lead to new customers and increased sales at almost no cost.
employee experience
Not only organisational benefits are a result of optimizing your experience, it also influences the employee experience. Working customer-centric as an organisation, has the following impact on your employees;
Happier employees: When customers are pleased with the service they get, it can boost team morale and job satisfaction.
Stronger team dynamics: Delivering a great customer experience often requires teamwork, which helps build better relationships and improves how people work together.
Improved skills: Providing excellent customer service helps team members strengthen their communication and problem-solving abilities, which are useful for career growth.
Overall, a great customer experience positively impacts both the team and the business.
In summary, an exceptional experience leads to customer loyalty, word-of-mouth marketing, increased market share, and a positive brand reputation. These benefits translate directly into business growth and financial success. Businesses that make CX a priority will thrive, while those that neglect it will struggle to compete. Overall, customer experience should be a key focus for any company that wants to gain and retain customers in today's competitive market.
how to improve your customer experience
Improving CX requires a customer-centric approach that prioritizes the customer's needs and emotions in every decision. Here are some tips to get started with improving your experience:
Know your customers: Ask for feedback and listen to customer concerns to gain valuable insights into what they want and need from your business. Here you can learn more about conducting customer research. Process this information into customer profiles and journeys so your employees can act on it.
Service innovation: Use these customer journeys and insights to improve your products and services. Identify opportunities that drive both business and customer value, then validate and implement successful solutions.
Manage the customer experience: Gain full control over your customer experience by implementing a customer-centric way of working across your entire organization. The right governance, methods, and mindset will ensure everyone works together based on customer insights.
the components of customer experience
Creating excellent CX requires paying attention to a few key essentials across three levels:
Brand experience: the overall impression customers have of your company. The key here is to provide consistency and be instantly recognizable, in line with your brand identity.
Service experience: the perception customers have based on a specific service you provide them. It's crucial to ensure a seamless journey that leads to the outcomes your customers want.
Channel experience: the interactions customers have with your company at different touchpoints. Focus here on usability, ease of use, and accessibility.
Providing an awesome customer experience involves looking at the big picture, specific services, and individual interactions. Keep your brand top of mind, deliver what your customers need, and make it easy for them to connect with you.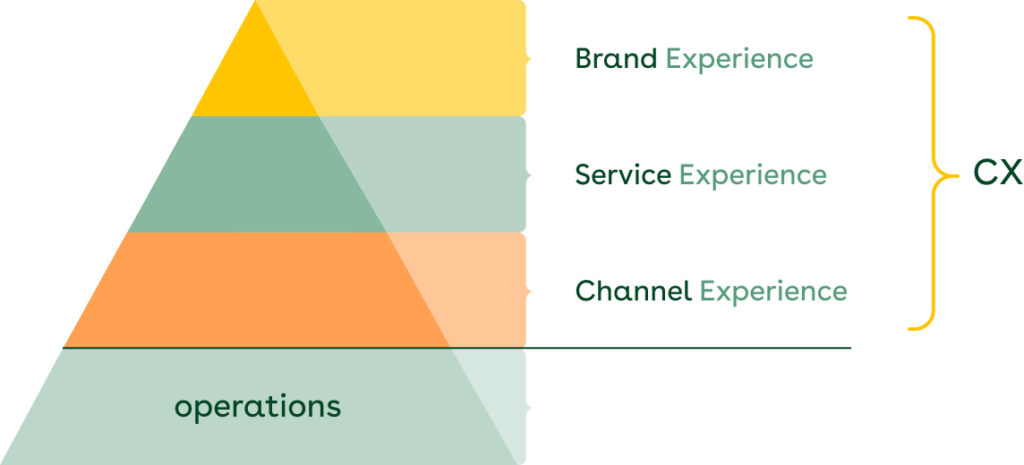 conclusion
Delivering an outstanding customer experience is essential for business success these days. By prioritizing customer needs, paying attention to feedback, and enhancing key parts of the experience, companies can differentiate themselves from competitors and build customer loyalty. As a customer experience agency, Essense is committed to helping businesses create exceptional experiences that drive growth and prosperity.
Feel free to reach out if you need support improving and operationalizing CX in your organisation! 
Keep me updated