What does your customer really need? Once you know that, you replace assumptions with insights and a validated value proposition. That will give you all the confidence to design the services your customers actually want. We help you achieve exactly that.

From there, we help you take control of your customer journeys and monitor the insights and data. This way, you can start a continuous process of researching, streamlining, and improving based on customer needs and business value.

Whether you're aiming to design a new service or improving an existing service, a deep understanding of your customer needs always has to be the starting point. That's why our 'triple diamond' process for service innovation starts with customer research.
1. identify customer needs
Designing quality services has to start with a deep understanding of what your customer needs. We define need-based customer profiles informed by customer research, feedback or any data you may have. These profiles will provide tangible needs, expectations and channel preferences, informing you what to design and who to design it for.
2. prioritise opportunities
If you're improving an existing service, we map all customer needs and pain points along the customer journey and turn them into opportunities for improving your service across all touchpoints. Then we define criteria for prioritising them based on customer value, business value and effort.
If you're designing a new service we turn customer needs into value propositions and prioritise them based on business potential, feasibility and strategic relevance, all in co-creation with your team of course.
3. validate with customers
Now that you have your priorities clear, you'll want to validate the opportunity or proposition with customers before investing significant time and money in implementation. We do this using offline or online design concepts or, if possible, by running an experiment in the market.
4. design & evolve
Now that you know what your customer needs and wants it is time for detailed UX design of your service. Usually this has a strong digital focus but it is crucial to align offline and online touchpoints as customers will judge the quality of your service by the total omnichannel experience.
From here, it is a matter of continuously evolve your service by measuring and experimenting design improvements along the customer journey. Let's collaborate to design a great service for your customers.
service innovation at Saman Groep
Saman Groep helps individuals and businesses transition to sustainable energy. In their current webshop, Saman faced a challenge in driving online sales. To increase conversions, they sought a deeper understanding into the minds of their customers, and wanted to restructure the website bases on the actual customer needs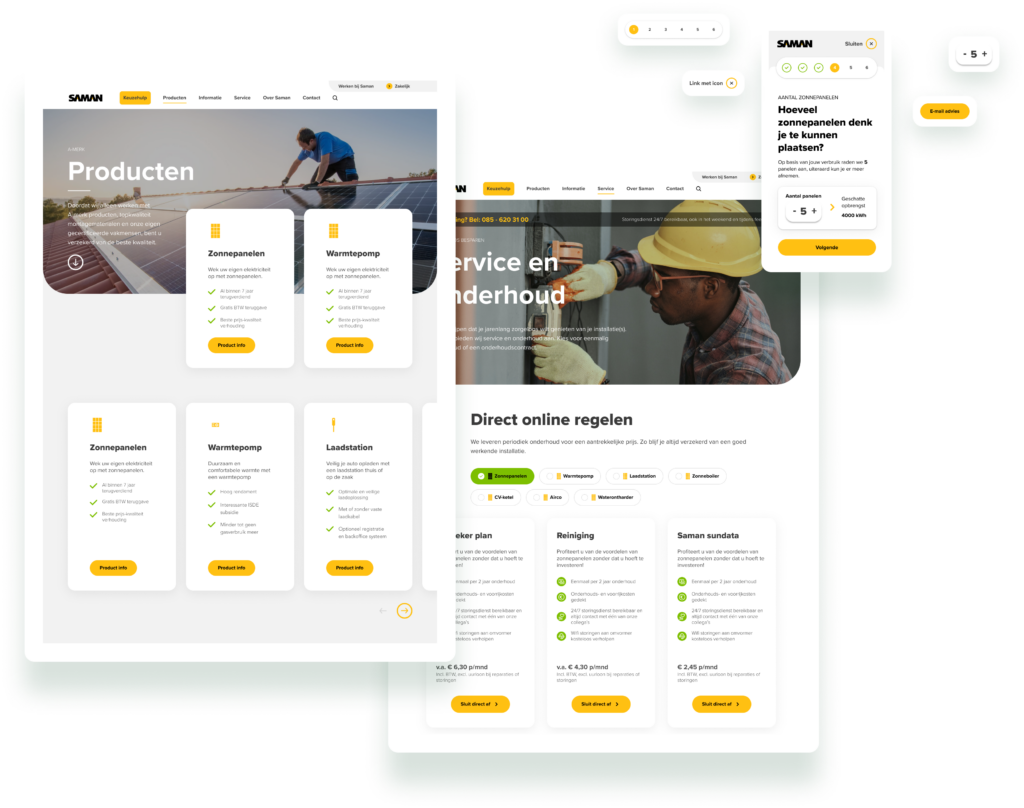 the bottom line of service innovation:
1.

understand your customer

Customer insights from research and data mapped in the context of the customer journey, to identify opportunities for improvement.
2.

get your priorities straight

Prioritising improvement opportunities based on customer- and business value enables you to define your roadmap objectively.
3.

validated solutions

The quality of implementation determines your success. Validating solutions with customers is crucial for achieving impact.
Jelmer Kok
Service Design Consultant
ready to design services your customers actually want?
get in touch
our building blocks
We're keen to discuss these with you to come to a tailored approach.
customer research
Need-based customer profiles provide actionable insights on customer expectations.
journey mapping
Qualitative customer research provides insights mapped along the customer journey.
value proposition
Define and validate your proposition or customer promise based on customer insights.
concept validation
Validate assumptions, concepts or scenarios with customers before implementation
design validation
Prototype UX designs or experience flows and validate with users before implementation
agile UX design
Write user stories based on insights, and design the user experience for implementation.
design system
A design language in line with brand identity, for a consistent omnichannel experience
service blueprint
Link customer journeys with internal processes in order to streamline your operations.